The Guildford Window Cleaning Professional You Can Rely On
Window Cleaning is at the core of my business and it is a service I tremendously enjoy. If you need a Guildford window cleaning service, look no further!
Very few things can elevate the look of your property like clean looking windows. It can quite literally give you a fresh outlook on life. It will also bring in more sunshine, which is especially important in the darker months of the year.
There is nothing quite like looking outside and having nothing in the way of your view. Not spots, no streaks nor unsightly marks. It brings great personal pride to make customers' lives that little easier and much more enjoyable by taking care of an aspect of property maintenance that many people find tedious and difficult to do.
When those beautiful rays of sunshine come in, you do not want to focus on the dirt or smears on the glass.
I offer professional window cleaning, conservatory cleaning, solar panel cleaning, and gutter unblocking services in Guildford, Shere, Peaslake, Godalming, Cranleigh, Chilworth, Shalford, Bramley, Merrow, Burpham, Gomshall, Albury, Abinger, Hammer, Holmbury St. Mary, Hurtmore, Wonersh, Blackheath, Shamley Green, Farley Green, Birtley Green, Winterfold, Wintershall, Ewhurst, Alfold, Dunsfold, Farncombe, and surrounding areas.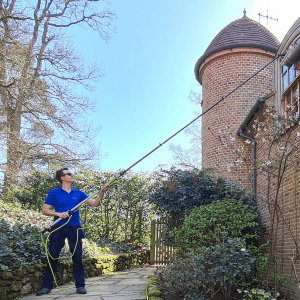 Contact me TODAY for all your cleaning needs!
Testimonials
Timber started working for me through personal recommendation, it's the best way to find somebody. Timber is so professional, reliable and organized. He always texts or calls 24hrs in advance to let me know he is coming. It's such a relief to find a "personal service" from somebody local – we had reluctantly been using a commercial firm for 2 years since our previous window cleaner had retired. But we were not happy with their service and were concerned about security, since we live quite remotely. Timber is a brilliant window cleaner; he is very professional, always does a super job and is a pleasure to have around. He comes highly recommended – you would be lucky to get him! Another much appreciated thing is that he will take cash/cheque, but prefers online payment, which is easiest and quickest of all!

Annie Sutcliffe Loxhill, Hascombe

Trustworthiness and reliability are major considerations when entrusting a "stranger" with access to your property. I needn't have worried as Timber delivers on both counts. His system of sending a text message the night before he's due to come works brilliantly. Timber is always prepared to go the extra mile and nothing is too much trouble, including offering to go to the chemist when I was unwell! Timber obviously takes pride in his work, is unfailingly cheery and friendly and I have recommended him to friends who are equally delighted with his service.

Lisa Huntley Guildford

Previous window cleaners were unreliable; they would turn up a couple of times and then disappear. Timber is absolutely reliable, charges a fair price and does an excellent job. All doors are cleaned as well as the glass. He also does inside cleaning on request and never leaves a mess. You can pay online very easily. Timber is very pleasant to have around. I have recommended him to several neighbours and would have no hesitation in recommending him further.

Alison Owen Godalming

I would highly recommend Timber. He's 100% reliable, always comes, and never bothers us. In fact he even made a plan for our over enthusiastic puppy who wanted to join him whilst he was cleaning and managed to safely secure her when he left the house. He is neat and he leaves all windows looking fabulous. He is courteous and professional – a service well worth having, and his price is very reasonable. Thank you!

Theresa Littleton

Timber could not have been more reliable. He keeps in touch so that I know exactly when he will come. He is always cheerful and does a great job. Too often, window cleaners start and then don't call back. I would totally recommend Timber for his quality of work but as importantly his reliability

Lyn Barber Shamley Green

Timber was working for neighbours who only use good quality tradesmen, so it made sense to add another customer while in the area. I am not disappointed. Timber is always so polite, rarely found nowadays. He's very unobtrusive, when he worked from a ladder I never felt that my home was being judged or spied upon. I have no qualms about him cleaning the insides of the windows because: 1) He is trustworthy, 2) He puts on blue plastic overshoes, 3) He is bold enough to brave my daughter's bedroom – without comment! Timber will speak if spoken to (whilst still working) and does a professional job.

Lucianne Clement Bramley

Cleaning windows can be a nightmare when you live in a tile hung house. You need a window cleaner to be very careful. Timber has cleaning our windows for some while now; we are really pleased with the excellent quality of his work and his reliability. We were recommended to Timber by a neighbour and we have since recommended him to others. He does exactly what you need from a window cleaner – an excellent job, well reliable and careful. Thank you Timber!

Ms. O. T. Chilworth

We started to use Timber's services because we had been impressed by his friendly professionalism, and then a very pleasant surprise was that his system was so much quicker and effective then "old-fashioned" window cleaning. There are never any smears and the frames are washed too. Timber's prices are reasonable, he is reliable, polite and gives good and regular services. We have also asked him to clean windows indoors which he does on request 3-4 times a year. All in all we have no complaints and would happily recommend him.

Margie & Roger Martin Guildford

I moved to Chilworth 5 years ago and spotted Timber cleaning windows at a nearby house. I asked him if he would be willing to clean my windows, as has done so ever since. He is very reliable and punctual, and is also willing to clean windows inside if needed. Timber also cleans my daughter's windows and we are both very happy and have no reservation of recommending him highly. He is very thorough, helpful and friendly. The windows are cleaned very well.

Mrs. J. Sinclair Chilworth

My previous window cleaner retired, and a neighbour recommended Timber. I was pleasantly surprised by the ease with which he was able to clean the windows without using a ladder – and there are never any streaks! He prides an excellent and reliable service and would (and have) recommended him to others.

Liz. P Shalford

Before I started using Timber's services, my concerns were that he would clean the windows without any smears, and that the dirty water would not drip on to the floor. Also all the furniture would be positioned in the correct places. I was surprised how fast he cleaned all the windows. The system is very effective and done to perfection. Any problems I know he will put right ASAP. All the sills are wiped clean which makes a big difference. I would recommend him to others.

Lisa Lubbock Gomshall

Timber has been my window cleaner for 3 years now and during that time the quality of work has always been fantastic. He is reliable and honest, very important factors within any profession. I would recommend him completely.

Nicky Parks Loxwood

I have been very happy with the level of service from Timber. He is reliable, efficient, friendly, trustworthy and honest. My windows are beautifully cleaned each time and the service is regular and reliable. I would recommend him to friends and neighbours with no qualms.

Ms. Moulding Godalming

I have been using Timber's cleaning services both privately and at my place of work for many years. Windows at both properties are done in no time with a highly professional result. I am very pleased with the quality of work and would not hesitate to recommend to other businesses as well as private properties. Thank you very much for your excellent service!

Kamila Ziegelbauerova Dunsfold

Your service is efficient and reliable. Always regular. The service is also friendly and the cleaning is excellent. Also the service is flexible, can be changed if for an important reason. This is very good for the customer. I would be happy to recommend the service to others as the cost is reasonable and the service provided is dependable.

Ann Delonga Shalford

Three floor building needs special service and Timber does a great job. I also have the insides of the windows cleaned by Timber annually. Keep up the good work!

Michael Gifford Albury

We are very happy with the services, and would recommend you to others.

Abbeyfield (Guildford) Society Ltd. Guildford

Timber has been cleaning our windows for several years. He works well and efficiently. He is pleasant and reliable and we recommend him to others.

Mrs. Armstrong Shalford

You do a very good job; I do appreciate it very much and would recommend you to others.

Maggie B Guildford
Reliable cleaning and unbeatable results
I clean properties on a regular basis as it gives the homeowner clean windows all year round and will keep you in my busy, automated schedule so that you never have to worry about having clean windows again. Ideally you would wish your windows to be cleaned every 4 weeks, this way your windows will stay clean all year round, despite the weather. In fact, that is how often I clean my own windows, as I find it keeps things looking new and bright.
I have got several methods and tools available to me. Water fed poles and traditional methods both have their place in a business. Ladder use in traditional window cleaning is to be avoided as much as possible as it inherently carries high risk, as many old window cleaners will be able to tell you. Unfortunately, some did not live to tell the tale or at the very least have lost livelihoods and health.
But whatever equipment I may use, it is me, as your personal trained and experienced operator with many years of experience, that makes the difference.
Even though I started off with primarily using traditional tools, since 2007 I have used almost exclusively water fed pole systems, which, when used correctly, delivers an unprecedented clarity and shine to not just the glass but also the frames and sills. The purification process starts at home with tap water sent through a complex series of filters, 7 stages in fact to produce water that is free from any hard water minerals that cause hard water spots. It is so effective it even removes bacteria.
Scedule a no-obligation quote at your convenience
Spotless results without using ladders
This water is ultra pure water and is aggressive on dirt, but gentle on surfaces. This is then transported to the customer's property in a fully crash tested delivery system, which has been professionally installed in my van.
The water then is heated to achieve even more cleaning power than cold pure water alone. It is quite a sight to behold in wintertime when other window cleaners must stop working and I can keep cleaning. Hot water comes from the brush head that can even melt snow and ice away. All the while keeping hands warm.
The pole system also allows me to safely clean awkward to reach windows, Velux windows, high dormers, conservatories, and even solar panels.
But whichever method is used, it will be the best method specific to the job.
Additional services can be also requested and scheduled on demand.
Window Cleaning